Length: Four 1-hour sessions
Language: English
Level: Introductory
Member price: $157.50+ HST
Non-Member price: $225.00 + HST
Ebooks should not be afterthoughts. Digital publishing presents great opportunities for large and small publishers. Ebooks can include more varied and comprehensive content than print. They must be accessible to readers who are closed out of the print format because of various disabilities. Editors can be instrumental in creating robust e-titles by including ebooks as part of planning and production from acquisition, or before.
What is an ebook? An under-the-hood look at EPUB creation. Tools, methodologies, workflows.
There's no page count! Plan the ebook edition from the start. What can be enhanced in the digital edition? What extra editorial elements can be included? What are the design needs? Plan extended, interactive backmatter, including a linked index.
Make every ebook accessible. Plan these elements from acquisition: structure, book section identification, image descriptions, design choices.
Talk to your colleagues. What does the designer needs to hear? How can the production department help? What does the ebook developer require?
As a result of attending this webinar, attendees will have a broad exposure to the possibilities and responsibilities of ebook development.
And, they will learn that by working from the earliest planning stages, collaborative ebook development can not only create powerful digital offerings but can enhance the editor's appreciation of the format.
This webinar is geared to editorial and communication professionals who have basic experience.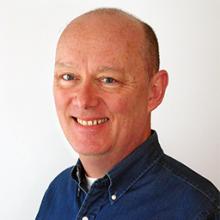 Kevin Callahan is a New York City–based ebook developer, writer, and teacher. He speaks regularly at conferences such as ebookcraft, PePcon, and CreativePro Week, and is a member of the EPUB3 Community Group's Accessibility taskforce. You can watch his course on Creating Fixed Layout ebooks for the Kindle on Lynda.com. Kevin will present a seminar on how to use InDesign to make ebooks accessible at the next ebookcraft in Toronto in March 2018.
Twitter: @BNGObooks